Live-streamed video took off on social media at the end of 2016, and many believe 2017 will be the year it explodes. Pre-recorded video will still have its own place, but brands will begin to increase their use of real-time video streaming to help engage their target audience.

Live video is becoming increasingly popular because it allows brands to engage with their audiences in a way that is immediate, unscripted, unedited and more authentic than pre-recorded and scripted content.
What Is Live Video and Why Does the Internet Love It?
Live video is video that is filmed on phones, tablets, and even professional cameras, and then streamed real-time directly to viewers on the Internet using mobile applications or the web.
Facebook brought live video to the mainstream.
Their feature allowed users to stream live video captured with the Facebook mobile app to their followers in real time.
Another example is Twitter and the NFL. The two teamed up to stream NFL Thursday Night Football games on Twitter in real-time. Viewers do not even need a cable TV subscription or a Twitter account.
How Will Live Video Benefit Your Business
Predictions say that live video will be the fastest-growing content category on mobile devices and desktop. Predictions are estimating that video will account for 82 percent of Internet traffic by the year 2020. That number is up 12 percent from 2015.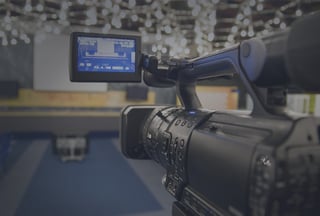 Another statistic shows that big television events will be more frequently consumed through "snackable clips" on social media. Like the daily features and recaps, on Snapchat.
Audiences will also begin to see brands announcing news, releasing information, and answering questions via live video on social platforms rather than in traditional press releases or written blog posts.
This strategy will make brands appear more authentic and transparent.
People want to see these types of responses. It gives businesses the ability to add a personal touch and appear more trustworthy rather than having a scripted robot answer.
Business owners also need to realize the value and SEO potential of social media video.
The live videos can be downloaded and then uploaded to YouTube, which can consequently help businesses gain a wider audience via Google searches.
The concept of live video was a too fresh in 2016 to reach its full potential. Brands were still too hesitant to fully utilize it due to its lack of control and unpredictability.
However, the lack of editing is what makes it real, and that is the greatest thing about it!
It is real and unvarnished look inside your business.
If you are ready to make 2017 an explosive year of growth for your business and need coaching on how to implement live video for your company, click on the button below for a Free Consultation with one of our Social Media Dynamo's!