Landing Pages are your means of conversion
Once you have gone through the grind and hustle of creating remarkable content to attract your ideal customers, and your site is crawling with hungry consumers seeking solutions to their quickly growing problems. What's next?
Converting that solution seeking traffic into leads.
Landing pages are used to convert visitors into leads allowing you to narrow your focus and remove the clutter from your pages that could distract your visitor from taking the action you want them to take.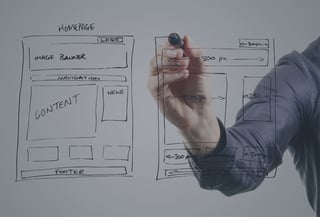 How do you convert visitors into leads?
By using a lead capturing-form on your page you can capture the visitor's information.
A good landing page should be focused on a single point targeting a particular audience, such as traffic from an e-mail campaign, or promotion form an eBook.
Landing pages operate similar to a springboard allowing users to be directed further into your site while engaging further with your company.
5 Tips to making killer landing pages that convert:
Test the placement of your context, forums, and CTA's to see what converts most visitors into leads.

Design your pages to highlight your services and what you are offering but make them short and sweet. In other words, simplicity is the key. Be direct and to the point.

Build your landing pages to offer some form of free content (

e.g., eBooks, blog, webinar, or info graph)

in exchange for your visitors valuable information (

name, email, or phone number)

Analyze and test your pages through A/B testing. If your landing pages aren't producing big results, make changes and modifications. After testing these changes and no improvements are seen, don't be scared to throw those babies in the garbage and start over from scratch

Remember every landing page should be targeted and centered around the ideal customer you are trying to attract. One design might produce magnificent results for one persona but for another the same page may perform poorly.

Studies show the average consumer appeals to:
More customer-friendly offers- Positioned more prominently on the page
Catchy headlines and text replacement in the headline to match AdWords and Bing Ads search terms.
Headlines with direction-Users want to be told what to do, how to do it, and where to go. Using clear and concise headlines, that directly addresses the readers wants, needs, and fears produce higher traffic.
Use Clear and Concise language- Writing your context in simple and envisioned terms allows you to better relate to your readers while making their experience more meaningful.
More images and less content- to highlight benefits, offers, and services provided. Readers are better attracted to pictures and illustrations enticing them to read further into the text.
Placement of CTA's- Shown to perform better at the bottom of the page where people scroll below the fold or at the beginning after an offer is first described.
Make your customer the center of attention- People that visit your landing pages want to know that they are valued and important. Don't focus you landing page around yourself or your businesses brand by continuously using the words "I" and "we". Incorporate the customer, use phrases that show how your services can fix your readers problems, provide useful information, and relay useful context.
Conversion Form- The most significant part of any landing page, the conversion form, is where page visitors submit their information in exchange for their offer, moving them further along the buyer's journey.
Ultimately the goal is to have a cleaner, lighter, and less dense landing page that readers can access quickly, is easy-to-browse, and has a user friendly-environment with clear direction to the next steps.
Need Help With Your Landing Page Strategy and Design?

At Donovan Digital Solutions, we will effectively grow your business using the latest marketing techniques and digital strategies.
Contact a member from our inbound marketing team to start your customized business plan and start attracting more customers to your landing pages and getting them to convert today!