Virtual Reality is the new marketing strategy about to take the world by storm.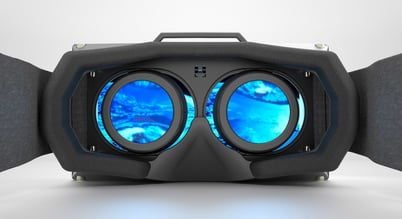 It has everything a business needs to market and sell their product effectively.
It can engage customers and show them how they can utilize and benefit from their product.
Virtual Reality is so successful because it solves a huge problem, engagement.
Marketers have enough trouble making consumers aware of their product, but engaging them is an extra step that tends to be even more challenging.
However, VR solves both of these problems with the following four solutions,
It's immersive; it allows users to wear a headset that completely immerses them into the content a brand wants them to focus on. This means little distractions and more attention on the brand's message.
It's impactful; the intensity of a virtual reality experience is impressionable. It generates strong emotions that most traditional media cannot mimic. It creates a legitimate behavior change in the consumer.
It's memorable; the human brain is built to remember things linked to experiences. Therefore, VR experiences

have a greater chance of lingering in the participant's memory than something they read on a billboard or saw on a commercial.

It's prevalent;

virtual reality is hot right now within public interest and fascination. Marketers can currently benefit even more because of the positive media exposure and curiosity of the public.
Below are brands that got a jump start on the use of virtual reality to market their products. They used virtual reality to their advantage, and the videos shot to demonstrate the level of positive response consumers had during the experience. These are some of the best campaigns yet that engaged customers in a unique way.
A soft cheese supplier, Boursin, had a virtual reality experience created that takes consumer on a journey through a refrigerator full or delicious snacks and treats.
During London Fashion Week, TopShop offered members of the general public a unique, and normally unfeasible opportunity, to view their exclusive fashion runway show from the front-row. Using a 360-degree panoramic video stream, lucky individuals got to experience this viewing in a pop-up space in TopShop's flagship London store. Their experience provided excellent visibility, as well as additional behind the scene footage from within the experience.
Another brand that used virtual reality to its advantage was Volvo. They thought prospective buyers would enjoy "test driving" cars via virtual reality if they were far away from a car dealership, or in the beginning stages of comparing products. Volvo's app puts the viewer in the driver seat of their all-new

XC90 SUV and takes them on a drive through the countryside.
The next company may not seem like a business that could benefit from a virtual reality scenario, but Patron Tequila made it happen. They used the power of virtual reality to show viewers the process of creating their tequila. This journey starts in the agave field and ends at a glamorous party at which Patron is being served. Now, when Patron does events, they can show audiences live action footage of the processes their tequila goes through to make it perfect.
During the Christmas season, the famous soda company, Coca-Cola, produced a virtual reality sleigh ride in Poland. Thousands of individuals were immersed in a magical winter wonderland as Santa Claus for the day. It was comparable to a roller coaster ride, but instead, you are on a sleigh as Santa, flying all over the country into different villages delivering gifts.
One of my personal favorites is the use of virtual reality as a marketing tool by the footwear company, Merrell. They launched a new hiking boot, the Capra, but instead of creating advertisements that show people hiking and scaling awesome summits in magazines, pictures, and commercials, potential buyers got to experience that feeling themselves. The experience was called Trailscape, and it takes participants on a treacherous and exhilarating mountain hike along a stage that is mapped out to mimic the virtual experience. They created a whole new level of immersion for thrill seekers and mountain explorers.

T

he motion captured allowed adventurers to explore the mountainside, with physical elements in place like shaking wood planks and rope walkways. This is potentially

one of the most immersive VR experiences to date.
Marriot used virtual reality technology to make everyone's dreams come true. Their VR experience takes participants to the beach paradise of their dreams in a matter of seconds. It is a revolutionary

4D Tourism experience to advertise Marriott Hotels. The tour takes you to the Marriot hotel first, then to the beach that is in Hawaii.

They utilized heaters and wind jets to take the experience to the next level. All of the user's senses will be engaged, and it might just feel like you are there. Although we know nothing can ever compare to actually being on the beach with your toes in the sand, it might just help you decide on your next beach destination. This VR experience has helped Marriott become one of the most forward thinking and relevant hospitality brands in the business.
Lastly, Disney created a 360-degree virtual reality "fly through experience" of one of the scenes of the new Star Wars movie. The participant will feel as though they are inside one of the speeders during an epic battle. This release is unique because it gives audiences a more interactive and realistic taste of the movie than a traditional video trailer ever could.
If your business is interested in implementing new digital marketing and advertising strategies, the professional marketing team at Donovan Digital Solutions can help you! Contact us today for a free consultation and learn how we can help you!