5 Simple DIY Internet Advertising Strategies
Smaller businesses usually do not have the capital to pay large internet marketing agencies to advertise for them, but what they do have is time. If you are a self-motivated business owner that is ambitious and willing to learn, then these 5 Simple DIY Internet Advertising Strategies make it easier for you to "do it yourself."
Social Media involvement
If this is your first time using social media to advertise for your business, then you may first want to take a look at some of the experts in the field to observe what is working for them. After you feel confident enough, you can begin interacting with other users.
Remember to keep your posts customer focused but participate in conversations to gain followers and boost your credibility. Being personally invested will make your company stand out from the rest. It won't hurt to be creative either, posting thought-provoking and entertaining content will help potential customers recognize your business and be a favorite over your competition.
Blogging
Blogging is one of the best ways to bring customers to your website. Do not make the blogs strictly about your particular company and services, but about the industry itself. Write about common misconceptions or answer questions many people have about your product or service. Anything people go to the internet to find the answer to should be a topic that you blog about.
Blogging builds your credibility and brand awareness simultaneously. If you are the go-to person in the industry for information, then when a person is ready to buy, they will most likely buy from you. The topics are unlimited, and you probably know more about your industry than an outside company anyway!
Informative Content
Creating great content that your desired audience is interested in is key. It is also vital for search engine optimization. Keywords are crucial during this process. Make sure that your keyword usage directly correlates with what you are offering. Delivering information that your potential consumers are looking for is what will build and maintain your business and click-through rate.
Email
Email, if used correctly, is a very successful way to get your message out to your prospective customers. With today's technology almost everyone has to have an email account, and most of the time they have access to it right at their fingertips, via their smartphones, tablets, and computers. When you are sending, emails remember to add a personal touch and an engaging subject line to encourage recipients actually to open the message.
Examine Results
The analytics of your blog, website, social pages, etc. can be very telling. It is important to evaluate them on a regular basis, so you know what you are doing right and what isn't working. This part of digital marketing seems to scare people off, but it is actually rather self-explanatory. For example, the primary goal of internet advertising is to use different platforms to gain and maintain website traffic.
So, if your results tell you that one particular thing is sending a ton of internet traffic your way, then keep doing more of it! And if something is providing you with little to no traffic, it is probably best to not waste your time on it anymore. Easy huh?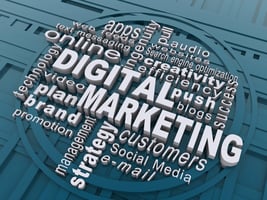 These advertising practices aren't rocket science, and you can technically accomplish all of these internet marketing strategies on your own, but it can be extremely time-consuming, and many businesses just do not have the time to devote to constantly keeping up with these practices.
So don't feel bad if you do have to hire a marketing agency that understands your business to help you carry some of the workload. Most businesses realize that they do need some help to do their advertising effectively. Additionally, there will be less of a learning curve because they are more experienced and will already know things like the right keywords to target to gain the most website traffic.
If you are looking for some professional help with your online advertising, call Donovan Digital Solutions today or click on the link below for a FREE marketing offer.